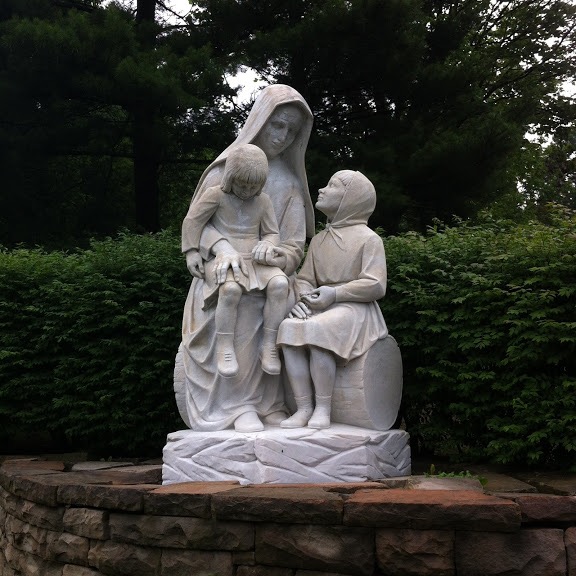 Clelian Heights School for Exceptional Children opened its doors in the fall of 1961 when four Apostles of the Sacred Heart of Jesus, a community of religious sisters, welcomed 4 students to the 39-acre site. Within two years the enrollment increased to six times its original size, filling the mansion house residence. Grants for expansion were sought and in 1964 plans for a new residence and school were begun.
In September 1968, a state-of-the-art educational facility was opened with its large well-equipped classrooms and specialty rooms including music, art, speech pathology and testing, home economics, wood shop, ceramics, and grooming. The spacious dining rooms, library and chapel, big multipurpose room, outdoor pool, playground, inner court area with bicycle path, amphitheater, and sand circle were designed to add warmth and welcome to the overall functionality of this unique program. Attached to the educational facility were beautifully furnished residences for boys and girls as a continuum of services was conceived to include a residential and day school for children, and vocational training facility for young adults. All this awaited the children for whom there was, as yet, no right to education. At the same time renovations began on the original residence to convert it into a program for young women.
The programs and enrollment grew rapidly as those on the waiting list were served. Through the years the programs have broadened and changed particularly those in the areas of computer skills, independent living, sensory skills, and vocational and employment skills. The facilities have also changed to accommodate students' future needs and the growing number of adults wanting to enter Clelian Heights' vocational program. Changes in community services, and state laws and regulations governing education and welfare have also brought about changes at Clelian Heights.
Buildings have been renovated and new ones added, including a recreation center housing a gym, sensory room, and therapy pool. Other additions included an outdoor pavilion, men's group home, licensed workshop with commercial laundry and dog biscuit bakery, two apartment buildings, and maintenance and vehicle buildings. Renovations have been made to every program area to equip and update them as necessary. This includes adding a physical therapy room with weight equipment, an occupational therapy room, an enlarged sensory room, pre-vocational job development training room, additional classrooms, and most recently, an adult therapeutic program area, the Adult Training Facility (ATF).
Clelian Heights is an exceptional place for the exceptional people it serves and the exceptional staff that serves them. Clelian Heights' spirit is as special as it is inviting and unique. It's a place that impresses, encourages, and radiates hope, love, and joy. Clelian Heights is ordinary and extraordinary at the same time. Here, all are loved and accepted, and make marvelous strides forward in everyday ordinary ways.
Truly, Clelian Heights is a unique and inviting campus. Watch our video for a tour of Clelian Heights' campus as the students, adults, and staff make use of its many advantages.
For more detailed information about Clelian Heights' programs and facilities, click here to view our Timeline.