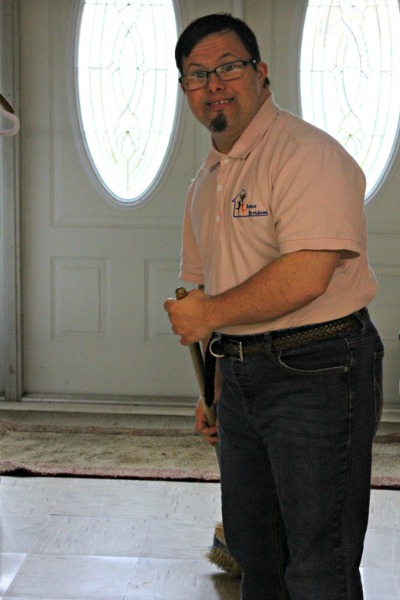 Clelian Center clients are encouraged to experience a variety of employment opportunities to match their abilities and desires. As they learn and work, meaningful skills are being acquired, building self-esteem and promoting independence.
The Pre-vocational Program provides participants with a variety of training experiences through these program components:
Employment Services assist adults in matching their skills to available community employment positions, acquiring a position, providing specific on-site job training, assisting with transportation, and ongoing support for retaining employment in the community.

Job Development and Coaching provides training and assistance in all phases of job acquisition and retention including: interviewing skills, identifying potential employment sites, contacting employers, completing job applications, learning and reviewing specific job responsibilities prior to and at time of placement, and assistance with transportation needs. The job coach teaches on-site and gradually fades from the site as the individual learns the job. The job coach remains available to assist with review training and resolving issues both for the employee and the employer as needed.
Supported Employment or Transitional Work provides for a small group of employees to be trained for and accompanied on the job by a Clelian Center support staff member that supervises the group at the community employment site.

Business Services contract with local businesses to perform services. Clelian Center Business Services are a cost-effective, dependable, timely and high-quality alternative to temporary hires for repetitive tasks and any type of small subcontracting work. The Clelian Center currently has contracts for mail room operations, bulk mailing, packaging, small parts assembly, and commercial laundry. Each client is given the opportunity to learn necessary work skills including: following directions, time management, scheduling, learning new tasks, accuracy, good work habits, and appropriate social skills. Clelian Center provides free estimates in its effort to contract with local businesses to offer services that will cost-effectively assist a company in its day-to-day operations.
Clelian Center Products are fabulous hand-crafted items that are made, packaged, and sold by our adult clients! They include our Captain and Sandy Gourmet Dog Biscuits and Clelian Scentsations Soaps.