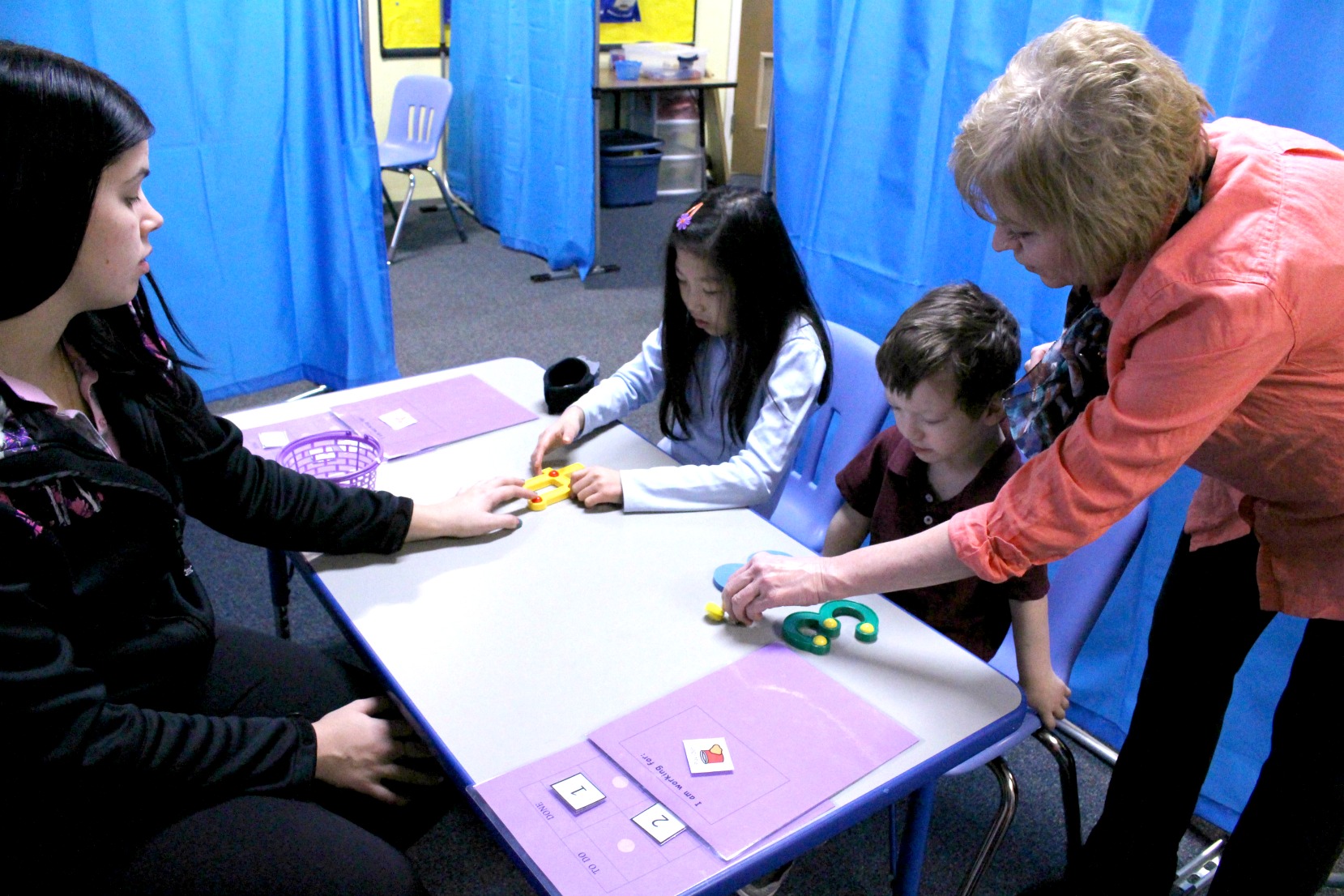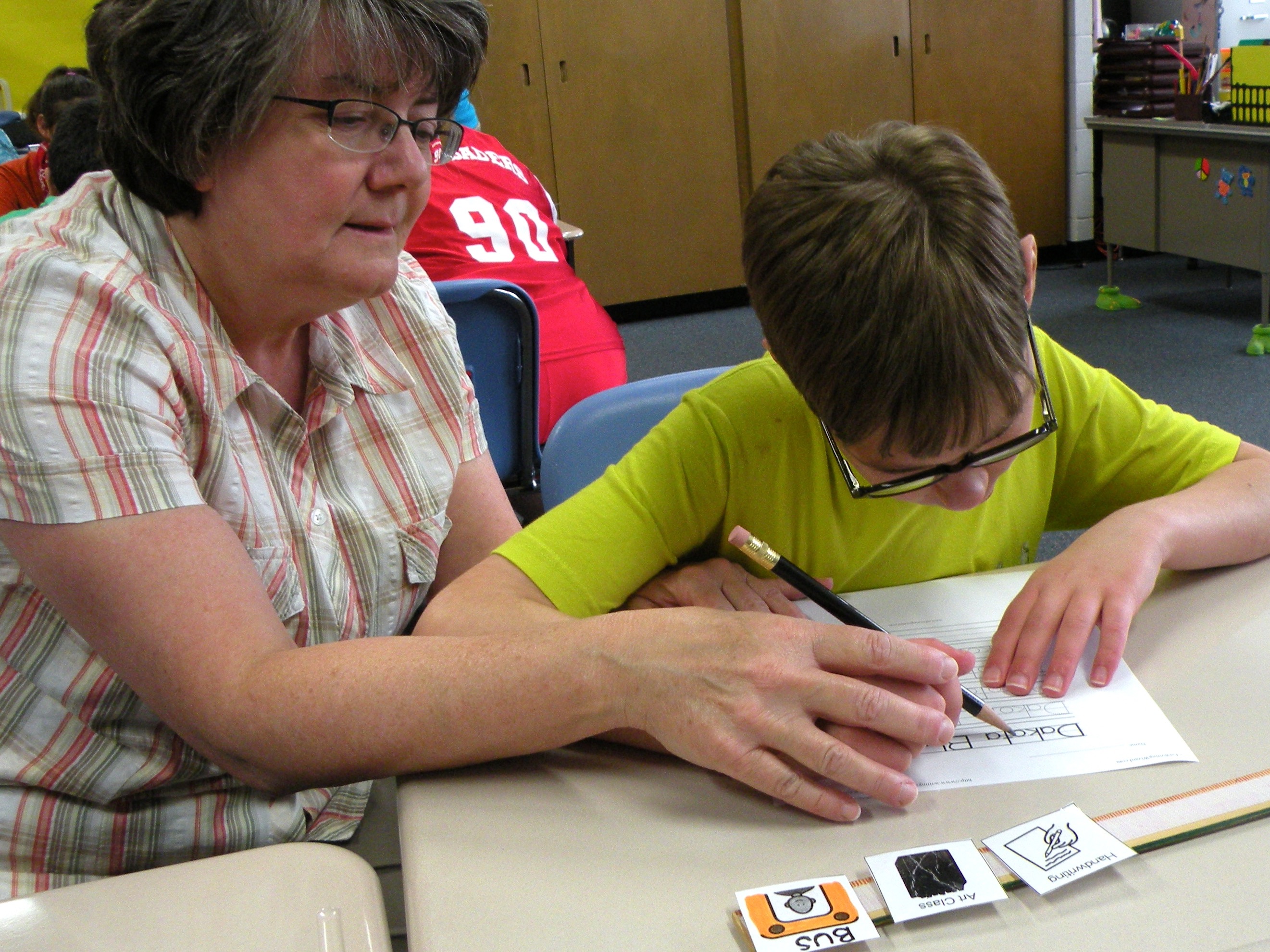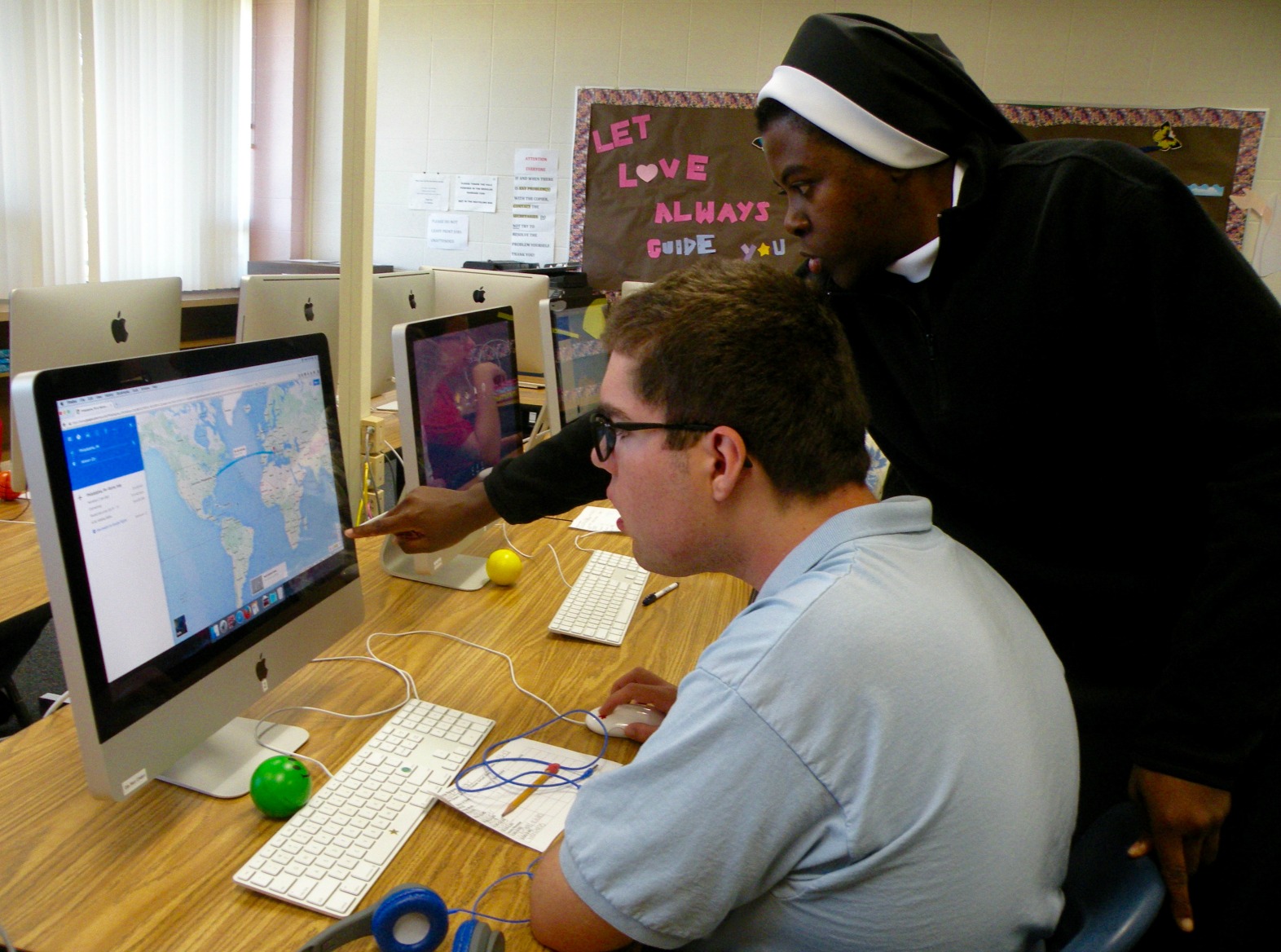 At Clelian Heights School, we believe that each person has the potential to offer something that is very unique and special. To maximize the potential of individuals with intellectual and/or developmental disabilities we utilize a non-graded educational program that provides an adjusted curriculum and a variety of specialized teaching approaches. Individual and small group instruction covers typical academic levels Pre-K through Twelfth grade.
The following is an overview of the curriculum areas at Clelian Heights School and the techniques used in implementing instruction.
Clelian Heights utilizes three effective instruction interventions—Intuitive Multi-Sensory, Direct Instruction, and Verbal Behavior. The teachers and aides have been specially trained in these interventions.
Language Arts/Reading
The Language Arts Program at Clelian Heights focuses primarily upon:
Listening/Comprehension: understanding spoken language
Speaking: communicating ideas through oral language, sign language, and use of Assistive Technology
Reading/Fluency: understanding written language
Writing: communicating through written language
Viewing/Decoding: understanding visual images and connecting them to accompanying spoken or written words
Visually Representing: presenting information through images, either alone or along with spoken or written words
Mathematics
The Mathematics Curriculum focuses upon:
Basic Math Concepts – numeration, measurement, money, and time
Operations – addition, subtraction, multiplication, and division
Applications – solving problems using Math Skills
The Intuitive Multi-Sensory TouchMath Program bridges the gap between concrete experiences and abstract concepts, reinforces number values, eliminates guessing, dramatically reduces student errors, and aids in memorization. But most important of all, TouchMath makes math fun and accessible to all students. It gives them confidence and inspires them to reach their academic potential. TouchMath is highly effective for students with Intellectual and/or Developmental Disabilities. Benefits of this program include:
Keeping students on task by employing multi-sensory (seeing, saying, hearing, touching) approaches and appropriate page layouts
Presenting a one-step-at-a-time approach that quickly provides success which improves self-image and developing better work habits
Providing real-world connections increasing student awareness of the need for math
Supplying objectives to meet IEP goals
Direct Instruction
Direct Instruction emphasizes the use of small-group, face-to-face instruction by teachers and aides that uses carefully articulated lessons in which cognitive skills are broken down into small units, sequenced deliberately, and presented plainly and clearly so that there is no room for difficulty or misunderstanding on the part of the students.
Some of the Direct Instruction materials we use are: SRA Language for Learning, SRA Reading Mastery, Reading Milestones, Teacher-created novel studies, Connecting Math Concepts, Touch Math, Touch Money, Dollar Up Money Skills, and Handwriting Without Tears.
Verbal Behavior
Verbal Behavior is an Applied Behavior Analysis program that has been developed for students with intellectual and/or developmental disabilities including those on the autism spectrum. This is especially helpful for those students who are not making meaningful progress in a traditional educational setting.
Founded by B.F. Skinner, Applied Behavior Analysis (ABA), is an evidence-based science that believes that behavior can be changed through the process of reinforcement and withholding of reinforcement. All kinds of behaviors and skills can be taught through the principles of Applied Behavior Analysis (ABA), including Language and Math Skills.
Using this knowledge, Clelian Heights has added two Verbal Behavior classrooms in order to support:
A highly structured learning environment
Engaging the students in a positive way, which will enhance attention to task
Teaching the students a more effective way to communicate their wants and needs
"Filling in the gaps" of very basic academic skills often assumed to be present— such as: sorting, classifying, labeling, matching, visual perception, fine motor, appropriate play, interaction skills
Improved progress and success for all learners even those who are not making meaningful progress in a traditional educational setting
Independent Living Skills
Developing personal independence for each student is a major component of our program because independent living skills provide the basis for an involved life in the community. In this section of the curriculum, the students work on learning, practicing, and mastering the skills needed for independent living:
Personal—health and fitness, personal care, clothing, etiquette, managing personal space,using the telephone, etc.
Domestic Arts—cooking, cleaning, laundering, household chores, etc.
Money Management—basic budgeting of personal funds, money concept skills such as making and receiving change, understanding money value for making purchases and for entertainment, etc.
Time Management—telling time, following a schedule, keeping appointments, use of free time, etc.
Community-Based Instruction
Community-Based Instruction is provided to encourage transference of skills learned in the classroom setting to the wider community. It involves learning appropriate behavior and social communication when interacting with others in the community.
For example:
With a variety of service providers: doctors, nurses, firemen, policemen, librarian, postal clerk, store clerk, etc.
While enjoying entertainment and leisure activities such as museums, restaurants, nature and science centers, the library; while bowling, shopping, at a movie, etc.
Community-based instruction stresses self-advocacy and safety awareness skills: for transportation, for access emergency services, for stranger-danger alertness, and to avoid hazards within the community, home, and school. It also concerns mobility issues and the use of public and private transportation.
Circles Program
At Clelian Heights we introduce the Circles Program. Circles is a concrete, organizational approach for students with special needs. It uses proven special education techniques and principles of behavioral psychology to teach relationship boundaries and relationship-specific behaviors with peers and authority figures. Circle demonstrates how to act and interact in self-enhancing ways. It shows students how to generalize their learning across many settings: school, home, workplace, and social surroundings.
Learning for Life
Clelian Heights offers a monthly Learning for Life Class (sponsored by the Boy Scouts of America) as part of its Community-Based Instruction. These classes help the students develop traits of sincerity, honesty, caring, fairness, consideration and concern for others, responsibility, respect, self-giving, kindness, trustworthiness, and good citizenship.
Many special needs students learn best by "doing." Independent Living Skills and Community-Based Instruction are learned best as they are modeled and "practiced."
Learning Through Technology
The focus of the technology program at Clelian Heights is multifaceted. The students are:
Introduced to the use of modern technology devices such as computers, iPads, iPhones, interactive white boards and Infocus Boards
Given the opportunity to use a variety of educational websites to reinforce functional and research skills that apply to daily life and will help them as adults
Motivated to learn, through the visual and animated components of technology
Physical Education
The goal of physical education class is to introduce the students to the basic elements of good health and nutrition and to have them all involved in some type of physical activity instilling in them the desire to carry this on in life as a part of their daily routine so that they can remain healthy. Students are encouraged to move—to play, to walk, to run, to join in group aerobic exercises and games, and even to try individual weight training when appropriate. They participate, as they are able, in a variety of group sports such as basketball, volleyball, softball, and soccer; and many of them choose to be involved competitively through the school basketball or softball teams or one or more of the Special Olympic sports events of swimming, bowling, golfing, skiing, or track and field.
Social Studies and Science
Using a variety of "hands-on" materials students learn essential topics in these Academic areas:
In Social Studies – American History, PA State History, and Geography
In Science – Anatomy, Earth Science, Matter, and the Solar System