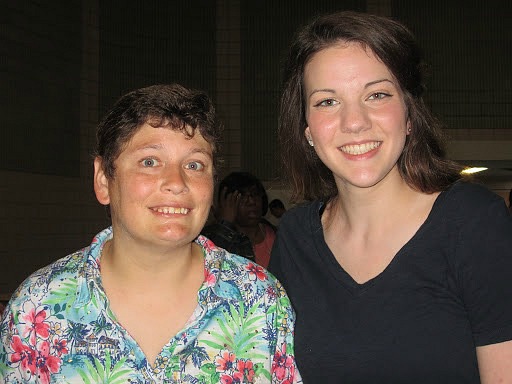 If you have the time, talent, and desire to work with children or adults with developmental disabilities, Clelian Heights welcomes volunteers of all kinds to enhance our programs, improve our facilities or provide activities. Individuals, school groups, scouting troops, community organizations and employee community relations programs have all helped Clelian Heights. The time you spend with us can vary–one hour or one day a week or whatever you choose depending upon the needs of the school and your desire to be a part of our mission.
Volunteers have led classroom craft activities, assisted one-on-one with math or reading or other academic skills, taught cooking classes to adult residents, been involved in recreational or work activites, painted playground equipment, helped with olympics practices, assisted with mailings and office activities, weeded landscaping, assisted in many ways with fundraising events and so much more!
If you or members of your group or organization would like to volunteer at Clelian Heights please fill out an application. Once completed, you may e-mail the application and other required information to the Director of Human Resources at lkovacs@clelianheights.org or send it to: Lori Kovaks, HR Director; 135 Clelian Heights Ln; Greensburg, PA 15601.
FBI, PA Criminal History Record and PA Child Abuse clearances are also required.
Websites for clearances
Additional requirements for volunteers
Mandated and Permissive Reporting Training Course
All staff and volunteers are required to take the online Mandated and Permissive Reporting Training Course offered by the University of Pittsburgh and then print out your certificate. The website for the training is www.reportabusepa.pitt.edu.
Virtus Training Course
In addition to the Mandated Reporter Training all staff and volunteers will need to complete the Virtus training and then print out your certificate. The website for the training is www.virtusonline.org.
Diocese of Greensburg Code of Pastoral Conduct
All paid staff and volunteers will also need to read the Code of Pastoral Conduct and print, date and sign the last page. http://goo.gl/MSNzEF
Act 24 of 2011
This form will need to be printed and completed.